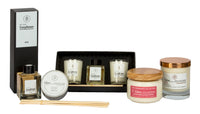 CozyDown Candles
Based in beautiful rural Wiltshire, CozyDown's range of Glass Jar, Travel Tin and Natural Reed Diffusers are truly luxurious.
The candles are made with 100% plant-based soy wax, in jars and travel tins.
The entire range is VEGAN, cruelty-free, non-toxic, and 100% plant based, and we use only pure Essential Oils or high quality fine fragrance.
The candles are hand poured and the glass candles are made with recycled glass.
All ingredients are VEGAN, ethically and responsibly sourced.