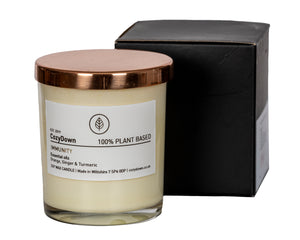 Immunity
This 20cl candle in recycled glass is made with 100% Plant Wax and a beautiful blend of orange, ginger and turmeric essential oils 😍
This blend has been developed for both its fab aroma as well as its therapeutic value.
Orange essential oil is known to lift the mood and reduce stress and when combined with Ginger, may contribute to pain relief
Some studies suggest that ginger and turmeric could help decrease markers of inflammation, relieve chronic pain, reduce nausea, and improve immune function.
What's more each candle has a burn time of a whopping 40 to 50 hours, making it truly excellent value at only £15.
100% Plant Based. Soy Wax. VEGAN
All CozyDown Candles contain 100% Plant Wax with cotton wicks and are lovingly hand poured in Wiltshire. 
Our glass is recycled and all ingredients are responsibly and ethically  sourced.