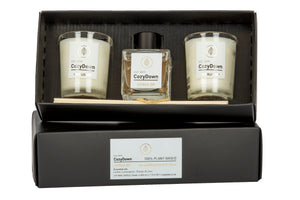 NEW PRODUCT!
CozyDown's new Gift Set range contain 2 gorgeous glass votives and a mini natural reed room diffuser.
The Citrus Zip Gift Set contains 2 recycled glass votives which are made with 100% Plant Wax and an uplifting blend of orange, lemon, lemongrass and lime essential oils. The room diffusers contain the same essential oils in plant based, alcohol and glycol free oil with natural rattan reeds to lift the aromas and gently scent your room.
Each votive can last up to 20 hours burn time, whilst the mini room diffuser will last approx 3-4 weeks.
100% Plant Based. Soy Wax. VEGAN