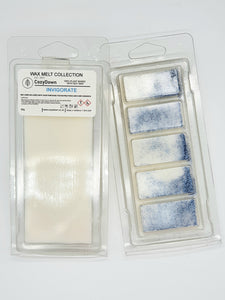 These refreshing Invigorate wax melts come in a 5 Snap-Bar clamshell with biodegradable eco glitter decoration.
This is a fresh zesty aroma with lemon and a hint of spicy ginger.
A refreshing spicy fragrance.
We recommend you start with adding 1 square to your wax warmer initially. Then, if you prefer a stronger scent, just add more.
CozyDown only uses the finest quality fine fragrance oils combined with soy wax in these fabulous wax melts.

Our clamshells are made in the UK from at least 80% recycled material and are fully recycable.