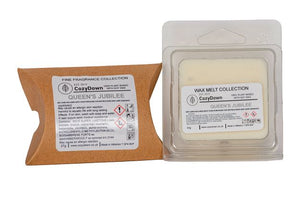 These Queen's Jubilee wax melts come in 4 square deep clamshell, or 6 hearts in a cardboard pillow. 
With a fragrance oil designed to celebrate Her Majesty's 70th year on the throne in 2022, the fragrance features top notes of Earl Grey Tea, Clove & Bergamot , followed by middle notes of Jasmine & Orange.
The base notes are Tonka Bean, Agarwood & Guaiaic Wood

As always these gorgeous melts are cruelty free, CMR free and VEGAN
We recommend you start with adding 1 square to your wax warmer initially. Then, if you prefer a stronger scent, just add more.

CozyDown only uses the finest quality fine fragrance oils combined with soy wax in these fabulous wax melts.  

 Our clamshells are UK made from at least 80% recycled material and are fully recycable.