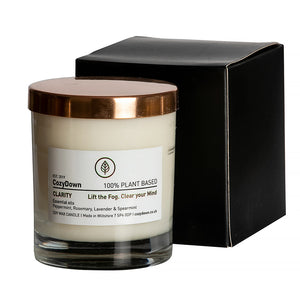 Lift the Fog and Clear your Mind.
CozyDown's Clarity fragrance contains carefully blended essential oils of Peppermint, Rosemary, Lavendar and Spearmint.
All CozyDown Candles contain 100% Plant Wax with cotton wicks and are lovingly hand poured in Wiltshire. 
Our glass is recycled and all ingredients are responsibly and ethically sourced.
30cl glass jar candles with copper lids and up to 60 hours burn time.