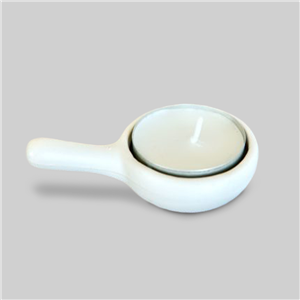 This Stylish Little Tealight Spoon is the Perfect Accessory for Your Tealight Warmers. Suitable for Tealights up to 4hr and up to 39mm in Diameter.
From the new eScential Living Collection of gorgeous monochrome ceramic wax melters and oil burners, adding a stylish touch of elegance to any wax addiction. As much home decor as they are functional warmers!
6cm x 4.5cm x 1.2cm (Please note that the spoons measure approx 4.5cm in width. It is important to check the width of the tealight opening as this may not fit all burners)
NTOE TO CUSTOMERS Unknown to CozyDown at time of ordering, these little spoons come Individually Boxed in Protective Polystyrene.  CozyDown advocate ecologically sound packaging so this is a disappointment and it is therefore unlikely we will be stocking any further of these lovely little spoons until such time as the packaging becomes more sustainable.